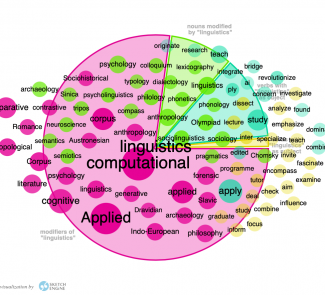 Want to learn more about corpus linguistics? The Linguistics Department will be holding a pair of virtual workshops to introduce participants to basic corpus tools available to everyone at UGA.
Friday, September 17th, 9:00 AM - 11:00 AM: Introduction to the UGA Corpus Server and the Open Corpus Workbench
(note time change!) Thursday, September 30th, 1:00 PM - 3:00 PM: Using R to work with the UGA Corpus Server (with the package PolmineR)
These workshops will introduce participants to the basics of accessing the corpora available on the UGA Corpus Server. Participants will learn how to access and navigate the available materials, basic query functions using the Open Corpus Workbench, and how to use R to access the corpora on the server. The demonstration will focus on three particular corpora that are used extensively by students and faculty at UGA: The Corpus of Contemporary American English (COCA, 1 billion words), El Corpus del Español, Web/Dialects (CdE, ~2 billion words), and O Corpus do Português, Web/Dialects (CdP, ~2 billion words).
If you are interested in participating in these two workshops, please contact Dr. Chad Howe (chowe@uga.edu) so that we can create an account for you on the server. This will need to be done in advance of the first workshop. We will be sending instructions prior to the workshop on accessing the server, both from campus and remotely, along with the Zoom meeting information. Please note that no prior programming experience is required! Both workshops will be recorded and will be made available in the UGA Corpus Server eLC course.
We hope that you will join us for this wonderful opportunity to take advantage of our corpus resources here at UGA.