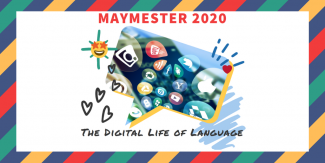 Dr. Chad Howe will be offering a Special Topics course during Maymester 2020 – "The Digital Life of Language" LING 4910 & ROML 4120/6120! This course is one of many approved courses for the DIGI Undergraduate Certificate. See course details below:
#The Digital Life of Language
LING 4910 (CRN: 63128)  & ROML 4120/6120 (CRN: 65204/65205)
Maymester
MTWRF 9:30-12:15pm
Description: Language is inherently a social practice, with speakers engaging in complex processes of linguistic exchange that convey not just the meaning of individual words, but also the more nuanced social values that underlie our perceptions of different people's speech. The same is true of language use in digital media, where users shape their identities using a variety of different linguistic (and often non-linguistic) strategies that are unique to the specific platform. In this course, you will explore the language of digital media, ranging from how users innovate new words and expressions in Twitter to the ways in which we use Facebook posts to shape our public image. Students will use modern tools in the analysis of language data to understand the mechanisms that shape language usage in the digital world. We will also conduct "mini fieldwork" projects designed to explore the boundaries of linguistic creativity facilitated by increasingly modern forms of communication.