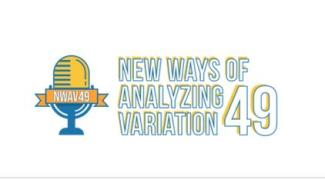 The NWAV 29 Conference (New Ways of Analyzing Variation) was held virtually hosted by the University of Texas at Austin October 19-24, and the University of Georgia's Linguistics Department was well represented!
Dr. Peggy Renwick co-authored two papers that were presented: one with former UGA Linguistics graduate Joseph Stanley "100 Years of Georgia English", and the second with current Linguistics graduate student Keiko Bridwell "Social predictors of the wine-whine merger in the US South".
Dr. Jon Forrest presented "Multiple Social Routes: Connecting Stance Accretion to Aggregate Variation".
PhD candidate Rachel Kim presented "Korean American English in GA: [+back] on the B/OW/T".
PhD candidate Andrew Bray presented "[ˈhɑ̞ki]: An Emerging Third-Order Index of a Hockey-Based Persona".
PhD candidate Joshua McNeill presented "LOL on Twitter: A test case for community detection".