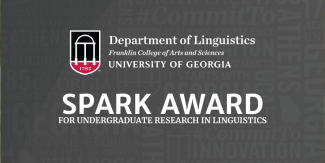 Thanks to a generous endowment created by Michael H. and Nancy E. Scarbrough, the Department of Linguistics was able to offer funding to support undergraduate research projects.
James West, an undergraduate student studying Linguistics and Computer Science, is our first recipient to receive the Spark Award for Undergraduate Research in Linguistics for his project - "A Lexical-Functional Grammar for the Irish Language."
Project Overview: The project's goal is a computational grammar for the Irish language, formalized using Lexical-Functional Grammar and implemented in the Xerox Linguistic Environment. A preliminary study is already underway, investigating a form of the Irish verb known as the autonomous, which carries a meaning similar to the English passive construction (e.g. "The book was read.") but exhibits unique grammatical functions. This preliminary study is a subset o the total project, the latter of which will investigate a more complete set of phenomena in Irish and analyze their appearance in a dataset of attestations.
James will be working on this project during Summer 2020 with Faculty Advisor, Dr. John Hale.
"I'm honored to receive the Spark Award for Undergraduate Research in Linguistics, and I'm excited that quarantine won't prevent me from contributing to the body of research at the University of Georgia this summer. I'd like to thank the Scarbroughs for making this possible, and also Dr. John Hale for his help in getting me to where I am today, and for the guidance he'll provide during the course of my research." -- James West