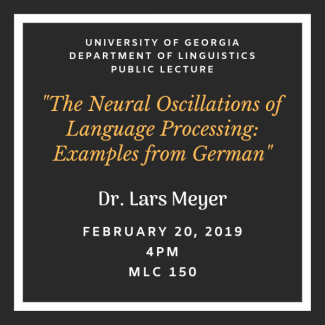 Miller Learning Center, Room 150
Dr. Lars Meyer
Max Planck Institute for Human Cognitive and Brain Sciences
Under the auspices of the Franklin College International Faculty Exchange Program, the Linguistics Department will host Dr. Lars Meyer from the Max Planck Institute for Human Cognitive and Brain Sciences in Leipzig, Germany. The visit includes a public lecture on February 20th at 4pm entitled "The Neural Oscillations of Language Processing: Examples from German." Dr. Meyer has a research collaboration at UGA with John Hale; Hale will reciprocally visit Leipzig later in the year.
Co-Sponsors Include:
The Department of Germanic & Slavic Studies
The Institute for Artificial Intelligence
The Franklin College Faculty Exchange Program
The Franklin Foundation Neuroimaging Training Program
The Graduate School
Linguistics Society at the University of Georgia
ABSTRACT
The Neural Oscillations of Language Processing: Examples from German
Lars Meyer
Research Group Language Cycles
Max Planck Institute for Human Cognitive and Brain Sciences, Leipzig, DE
Theoretical syntax accounts for compositional and relational properties of language: Single words enter into syntactic phrases to derive complex meaning; phrases link to distant phrases to express relationships amongst actions and the involved entities. Psycholinguistic models of sentence processing have formulated the cognitive operations required to handle these properties: To process sentences, we need to be able to chunk words into syntactic phrases, store dependent phrases in working memory, and retrieve phrases from memory when we encounter to-be-related phrases. My neurolinguistic research aims to map linguistic theory and psycholinguistic processing models onto naturalistic electrophysiological correlates. I focus on neural oscillations in the electroencephalogram, which represent ongoing changes in neuronal potentials that directly index neural information processing and transmission. I will introduce a series of studies that illustrate how neural oscillations may help chunking, storage, and retrieval operations: Chunking rests on slow electrophysiological processing cycles, facilitating the uptake of syntactic information. Storage is supported by the functional inhibition of working memory-related cortex through oscillatory power changes. Retrieval is enabled through synchronization across cortical networks. This work highlights the potential of theoretically inspired, psycholinguistically motivated, and electrophysiologically naturalistic neurolinguistics that spans the gulf between the humanities and the sciences.