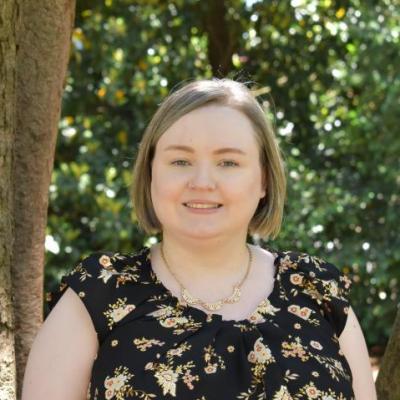 Administrative Associate II
Graduate Coordinator Assistant
Contact Info
Office:
Gilbert Hall 0011
Office Hours:
8:00 am - 11:30 am, 12:30 pm - 5:00 pm
As the Administrative Associate II for Linguistics, Jessica serves as the Course Sectioning Officer and Graduate Coordinator Assistant. She also handles file security & maintenance, website & social media, listserv management, mail delivery, and library management.
She is the first point of contact for Graduate Student applications, forms, assessment, registration and support. 
Education:
Jessica received an AS in Computer Support from Athens Technical College in 2008 and a BA in Business Administration from Piedmont College in 2015. During her time at Athens Technical College she received a web certification and was a member of the Phi Theta Kappa Honor Society. She is also an active member of The National Society of Leadership and Success.
She is currently pursuing a Certificate in Diversity & Inclusion (CDI) at the University of Georgia.