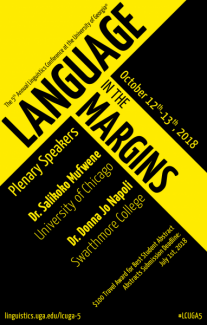 Miller Learning Center
The Linguistics Society at UGA is excited to announce the 5th Annual Linguistics Conference at UGA, coming this October 12–13! Join us for an interdisciplinary conference focused on "Language in the Margins," with plenary speakers Dr. Salikoko Mufwene, University of Chicago, and Dr. Donna Jo Napoli, Swarthmore College. Abstracts are due July 1, and may be submitted at here. We encourage presentations that span academic fields, as well as connect academia with the larger community.
For more information, contact the LCUGA5 Committee at ugalinguisticsconf@gmail.com.