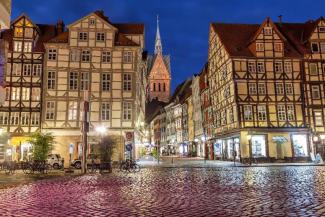 Hannover, Germany
There is a study abroad opportunity to go to Hannover, Germany and take some LING courses for UGA credit. Please see the information below for more details:
Founded in 1831 by the scholar Karl Karmarsch, the "Higher Trade School of Hannover" started with only 64 students. Today, Leibniz Universität Hannover (LUH) has more than 27,000 students of which about 4000 are international students in the natural sciences and engineering, in the humanities and social sciences, as well as in law and economics.
Contact Information
Dr. Vera Lee-Schoenfeld
Associate Professor of Linguistics
Linguistics Program / Germanic & Slavic Studies
209 Joseph E. Brown Hall
Telephone: 706-542-0814
E-mail: vleesch@uga.edu 
Ms. Colleen Larson
Education Abroad Advisor
Office of International Education
International Education Building
1324 S. Lumpkin Street
Athens, GA 30602
Telephone: 706-542-2900
E-mail: clarson@uga.edu
Eligibility Requirements
Minimum 2.5 GPA
UGA student in good academic standing
Linguistics courses taught in English are available, though German is primary language of instruction at Hannover
Previous German language study is recommended, but not required. Students without advanced German proficiency must take a German course while at Hannover
Students with GRMN 3010 may enroll in courses fully taught in German
Program Itinerary
Hannover Winter Semester =  UGA Fall Semester
Hannover Summer Semester = UGA Spring Semester
Spring Semester:  March to July *with March Intensive German Language Program
Full Academic Year:  September to July *with September Intensive German Language Program
Housing Information
Accommodation Service
The Hannover International Office in cooperation with the Hannover Studentenwerk (students' association) and others offer an accommodation service for international exchange students. The service is free of charge, and the Accommodation Service will help you to find a room or an apartment before coming to Hanover. As the International Office has a limited number of dormitories for these groups, it follows the rule: "First come, first served".
Additional Information
Preparation and Information Prior to Studies
Study-Buddy-Program
Welcome Reception
Life on Campus
Information during the stay abroad
Information before leaving Hannover
Hannover FAQs
Study Abroad Page