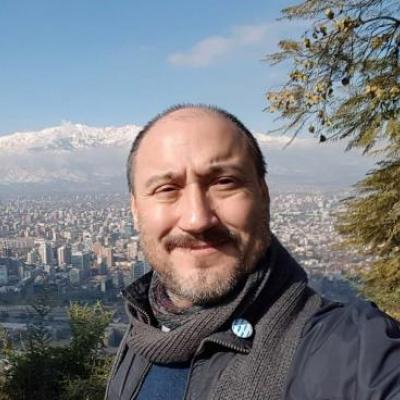 Adjunct Associate Professor
Contact Info
Office:
242A Gilbert Hall
Office Hours:
TR 4-5pm (Spring 2018)
I am originally from Las Vegas, Nevada. I completed my BA in Romance Languages (Spanish & French) at UNLV in 1997 and my MA in Hispanic Linguistics at University of Illinois, Urbana-Champaign in 1999. I took a break from graduate studies from 2000-2005 and taught English in South Korea, working primarily at universities in Gwangju (Cheollanam-do). I returned to the US in 2005, when I started my PhD studies in Spanish Linguistics specializing in generative syntax at University of Iowa under the direction of Dr. Paula Kempchinsky. I graduated from Iowa in spring 2010 and started at UGA in fall 2010.
IMPORTANT NOTE: My home department is Romance Languages, and I teach for them in Spanish. If you cannot take a course in Spanish, you will most likely not be able to take coursework with me. 
I am a native speaker of English, and an Ln speaker of Spanish, French, Portuguese, Catalan, and Galician (acquired to varying degrees in that order). I also have knowledge of Korean, Latin, and German.
As a theoretical and experimental syntactician, I am interested in how language is represented in the mind, in particular, the syntax of subjects, clitics and left-peripheral elements and their interaction with information structure. I employ a variety of experimental methods based primarily on generative second language acquisition research in order to elicit quantitative psycholinguistic judgment data. My current research interests include the prosody of contrast and CLLD in Galician and Spanish, the L2 acquisition of word order variation in Spanish, and subject expression and reference in Caribbean Spanish. To see more about my research, visit my Romance Languages homepage or my academia.edu page.
I am currently working on the Experimental Research in Linguistics Initiative (ERLI) with Dr. Margaret Quesada. Its mission is to promote, develop, and explore experimental research methods for applications in a broad range of linguistic subfields such as language acquisition (L1, 2L1, Ln), phonetics, phonology, pragmatics, psycholinguistics, semantics, sociolinguistics, and syntax. It also aims to foster inter-disciplinary academic and intellectual collaboration among faculty and students pursuing studies in language and linguistics.
Dissertation/Thesis Title:
The syntax-information structure interface: subjects and clausal word order in Galician
Selected Publications

Selected Publications:

Books
1.  Gupton, T. 2014. The syntax-information structure interface: clausal word order and the left periphery in Galician. Berlin/Boston: DeGruyter/Mouton.

Peer-reviewed book chapters

1. Gupton, T. to appear. "Syntax and Its Interfaces" (Chapter 18). In Geeslin, Kim (ed.). The Cambridge Handbook of Spanish Linguistics. Cambridge: Cambridge University Press. To appear in June 2018.

2. Gupton, T. 2017. "Early minority language acquirers of Spanish exhibit focus-related interface asymmetries: Word order alternation and optionality in Spanish-Catalan, Spanish-Galician, and Spanish-English bilinguals". In Lauchlan, Fraser and María Carmen Parafita-Couto (eds.). Bilingualism and Minority Languages in Europe, 214-241. Newcastle upon Tyne: Cambridge Scholars Publishing. 

Selected peer-reviewed articles and conference proceedings

1. Gupton, T. 2014. "Preverbal Subjects in Galician: Experimental Data in the A vs. A' Debate". Probus 26(1), 135-175. 

2. Gupton, T. and Sarah Lowman. 2013. "An F Projection in Cibeño Dominican Spanish". In Cabrelli Amaro, Jennifer, Gillian Lord, Ana de Prada Pérez, and Jessi Elana Aaron (eds.). Selected Proceedings of the 16th Hispanic Linguistics Symposium, 338-348. Somerville, MA: Cascadilla Proceedings Project. 

3.  Gupton, T. 2012. "Object Clitics in Galician and Complications for Clausal Analyses". In Geeslin, Kimberly and Manuel Díaz-Campos (eds.), Selected Proceedings of the 14th Hispanic Linguistics Symposium, 272-284. Somerville, MA: Cascadilla Proceedings Project.

Book reviews

1. Gupton, T. to appear. Review of Focus-related Operations at the Right Edge in Spanish: Subjects and Ellipsis (2016). by Iván Ortega-Santos, John Benjamins. Language 94(1). To appear in March 2018.